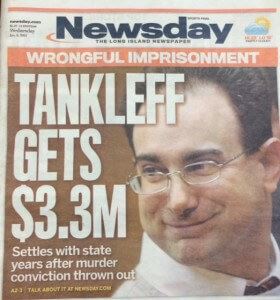 New York State has agreed to pay a Long Island man $3.37 million in a wrongful imprisonment settlement after he spent 17 years behind bars for his parent's murder before his conviction was vacated.
Martin Tankleff served 17 years in state prison after being convicted of the 1988 murder of his parents, Seymour and Arlene. An appellate court vacated his conviction in 2007 and all charges against him were dropped the following year. The appellate court ruled that a lower court did not properly consider new evidence brought forth by Tankleff's legal team during an extensive hearing. That evidence suggested that Seymour Tankleff's business partner, Jerry Steuerman, hired a pair of hit men to kill the Tankleff's. Steuerman owed $500,000 to Seymour Tankleff and was the last person to see him alive, at a poker game at the Tankleff home. After the murders, Steuerman faked his own death and fled to California. Suffolk police never considered him a suspect. He later filed a lawsuit against the state and a separate federal suit against Suffolk County and the detective who investigated the murder, alleging that police should have considered Stueurman a suspect and that their failure to thoroughly investigate Steuerman and people associated with him led to his false conviction.  "I think he would like to have the people who murdered his parents prosecuted and held accountable for what they did to them, and for what they did to his life," said Tankleff's attorney, Bruce Barket of Barket Epstein Kearon Aldea & LoTurco, LLP in Garden City, NY.
The lawsuit against New York State, which was settled in early January for $3.37 million, is for damages relating to Tankleff's claim of unjust conviction and imprisonment. His lawsuit against Suffolk County and Detective K. James McCready is still pending in federal court.
"This settlement is one more step in the long road to right a terrible injustice," Tankleff's lawyer, Bruce Barket, of the law firm Barket Epstein Kearon Aldea & LoTurco, LLP, said. "The next step will be a full public trial in federal court exposing the wrongdoing by law enforcement and making sure that it does not happen to anyone else."